How to Convert Low Resolution Image to High Resolution Online
"How do I convert low resolution photos to high-resolution online? How can I make high-resolution images online? Any suggestions" - Jennifer
Are you struggling with a low resolution image and you need it as a high resolution image? If yes, then this article will be helpful for you. Once your photo turns old or is not clicked in the correct mode, the image appears blurred and low-resolution. This can be quite upsetting because these images don't look good when printed. Even worse, today's social media standards require that photos be of high resolution to appear crisp and clear on their platform; this means that if you want to upload it somewhere, it needs to be of a high quality. But what do you do if your picture is the opposite of that? Well, converting a low resolution image to high resolution isn't impossible! There are several online tools that can help with that.
Here we would like to introduce the most popular online AI Image Upscaler as well as how to use AI technologies to convert low resolution image to high resolution online for free without ruing the image quality.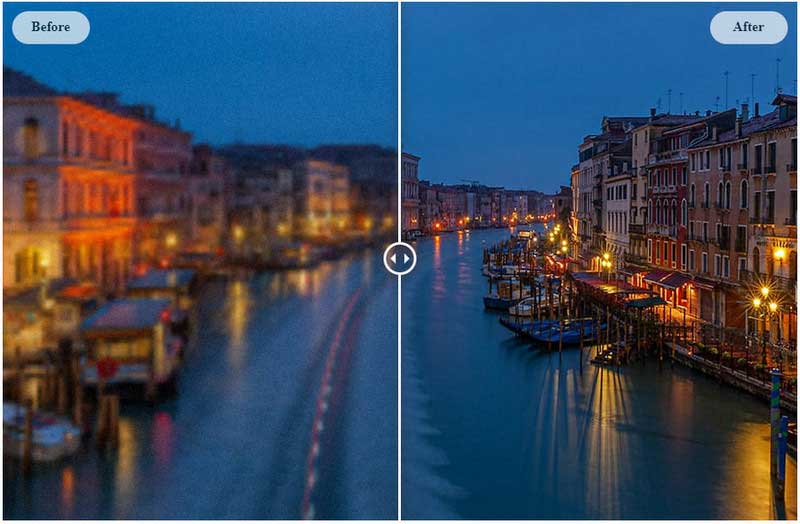 Part 1: What Is Resolution
Resolution is the fineness with which we can see an image or photograph. The higher the resolution, the better the picture quality, and vice versa. If a photo has a low resolution, it will appear blurry, pixelated, and generally unappealing. If a photo has a high resolution, it will be crisp and clear, and will look amazing! The resolution of a photo is determined by the number of pixels it has. The more pixels, the better the resolution, and vice versa. There are two types of image resolution: 'Pixel' and 'Dot'. Pixel is the number of pixels in a single image. Dot is the number of pixels per inch. A photo may have a high number of pixels, but if it is printed at a low resolution, the final image will still seem pixelated, low-quality, and blurry.
---
Part 2: How to Convert Low Resolution Image to High Resolution Online for Free
This might seem too good to be true, but you can actually easily convert a low resolution image to high resolution! This can be done through a number of online tools such as AVCLabs Online AI Image Enhancer that convert low resolution images to high resolution. The only catch is that you will have to upload the low resolution image for the online tool to convert it. With the help of this AI tool, increasing the size and resolution of small images can be as simple as one click. The powerful AI enables users to upscale image resolution and detail up to 4 times, , increasing the resolution without losing the quality.
Powered by super-resolution AI technology, this Image Upscaler Online could increase image resolution online automatically without reducing quality. It can boost the overall quality of your images by removing noises and sharpening details.
Photo Enhancer AI
Enlarge and upscale image without losing quality.
Sharpen image edges and deblur image online 100% automatically.
Increase the resolution of low-quality images online.
Enhance color and contrast with only one click.
No editing skills are needed.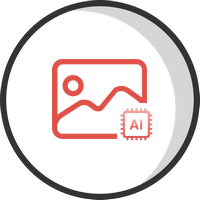 Convert Low-res Images to High-res Online for Free via AVCLabs Online AI Image Upscaler
Just follow the steps below to increase the photo resolution online for free and boost its quality using the best free AI image upscaler: AVCLabs Online AI Image Enhancer.
Step 1
Go to the official page of the AVCLabs Online AI Image Upscaler
Navigate to the free online image upscaler with any browser (such as Google Chrome, Firefox, Safari). Please keep a good network condition during the whole process.
Step 2
Upload One or Multiple Low-resolution Images to AVCLabs Online AI Image Upsaler
Simply drag and drop low-res images to the online tool or click on the Upload Image button, browse and choose the image you need to upscale from your computer.
Note: The supported input formats are: *.png, *.jpg, *.jpeg, *.bmp, *.jfif and *.webp.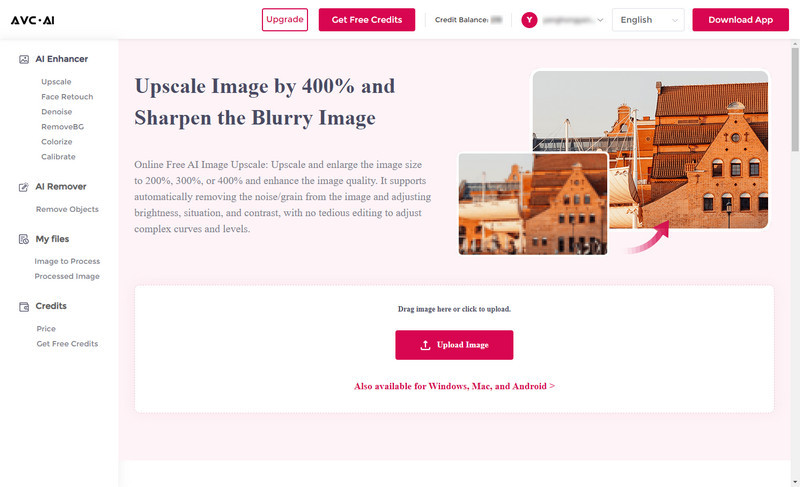 Step 3
Choose the AI Model to Start Converting Low-res Images to High-re
After the image is uploaded successfully, you can see the image is displayed as the ready state. You can choose the AI Model, upscaling scale size, face refinement, etc.
To convert the low-resolution images to high-resolution, you are suggested to turn on the Upscale model here. It offers 100% to 400% options for scale size, just choose the size according to your need. If needed, you are able to switch on the Face Refinement option to retouch portrait photos.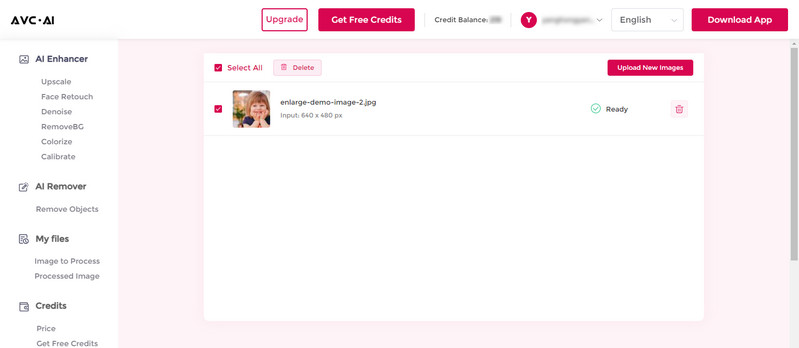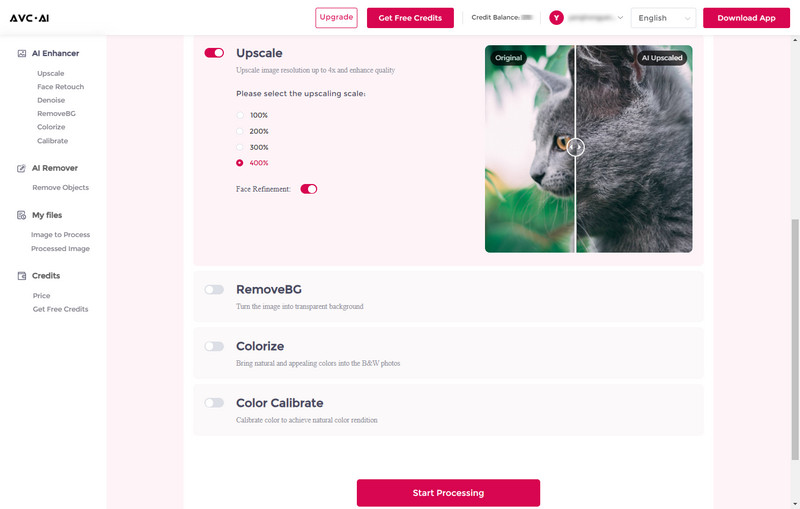 After all the settings are done, click on the Start Processing button to start increasing the image resolution.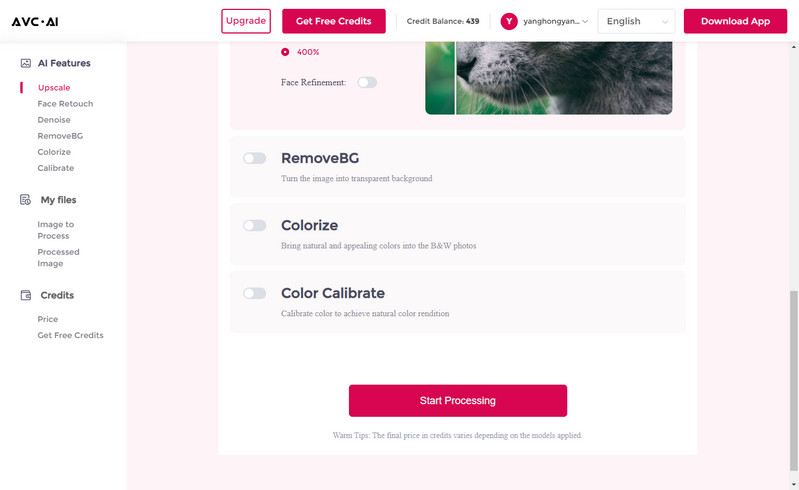 Step 4
Preview the Result And Download the Converted High-resolution Image
Once the upscaled process is done, simply switch to the Processed Image tab. Just click on the Eye icon to preview the original and upscaled image result by dragging the slider bar.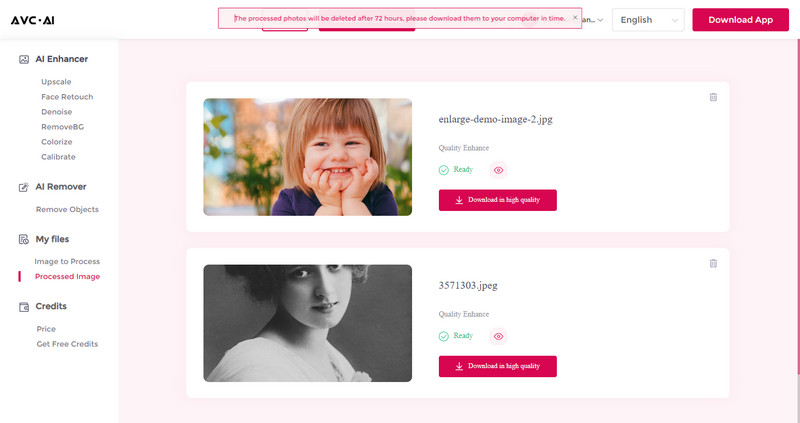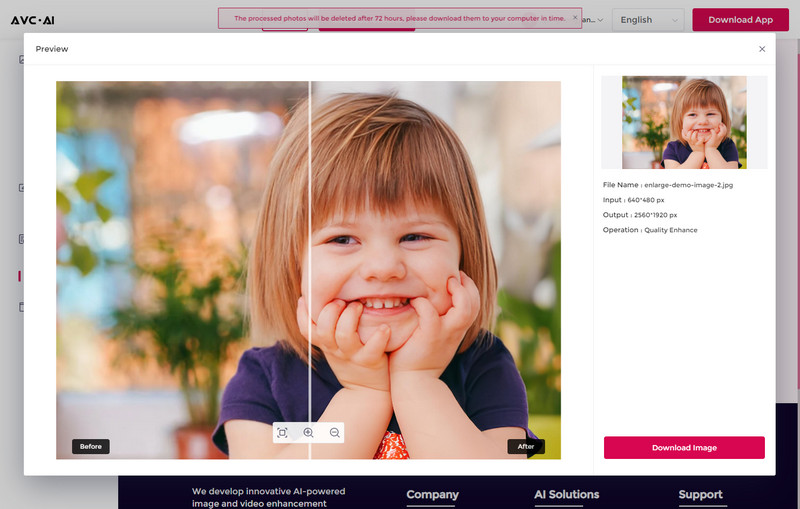 If you are happy with the result, just click on the Download in high quality button to save the high-resolution image to your computer. The output format is *.jpg.
Note: The processed photos will be deleted after 72 hours, please download them to your computer in time.
---
Pros:
• Multiple features to enhance images quality
• Powerful AI to upscale images resolution without losing quality
• Enlarge images online up to 400%
• Support unblurring images
Cons:
• Cropping the image is not supported
• Limited output format, do not support selecting the output format
---
Part 3: Extra Tips: How to Convert Images of Low-Resolution to High-Resolution on Win & Mac
From part two, it is not difficult to find that online AI Image Upscaler does not offer multiple output formats. If you wanna export the images to another format you prefer, you can try another desktop upscaling tool: AVCLabs PhotoPro AI. It enables users to set the output image format to JPG, JPEG, PNG, BMP. It also does a great job in fixing Low-resolution photos on the computer, converting low-resolution photos to high-resolution ones, or enlarging small, old, and blurry photos to high-resolution and better quality photos.
Key Features of AVCLabs PhotoPro AI
Enhance photo quality with advanced technology.
Remove unwanted objects, people, watermarks.
Colorize B&W photos to make it come to life again
Change the style of image to create unique look.
Upscale photos up to 3x, 4x without losing quality.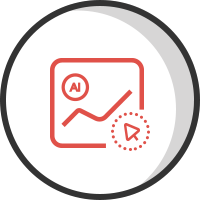 How to Convert Images of Low-Resolution to High-Resolution
Here are the simple steps to upscale low resolution image to high resolution.
Step 1
Install AVCLabs PhotoPro AI and Upload Images
Open AVCLabs PhotoPro AI and click on the Browse button to import an low-resolution image.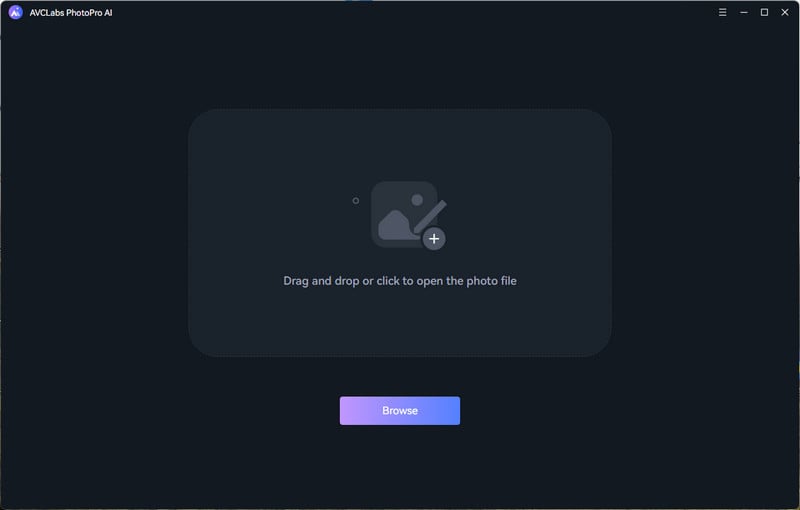 It supports a variety of file formats, including PNG, JPG, JPEG, BMP, RAW, etc.
In the top panel of AVCLabs PhotoPro AI, you are able to choose the AI Model: Inpaint AI, Matting AI , Enhance AI, Stylize, Upscale, Colorize, or Adjust Color model you prefer. Here, just select the Upscale model to move on. It automatically enhances the details, texture and removes blur in your images while increasing image resolution to 1x, 2x, 3x and 4x.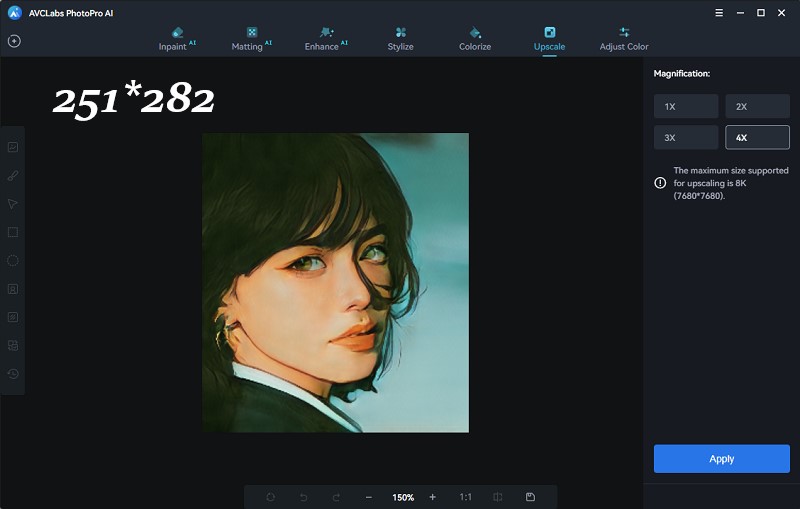 These magnification levels represent the scaling factor applied to your image. It will double, triple, and quadruple the original size of the input image. The maximum size supported for upscaling is 8K. Choose one based on your needs and click the "Apply" button to start the process.
Step 3
Preview and Save Converted Images
Now, all you need to do is to let the AI upscale the resolution of the image automatically. Once the image resolution increasing process is done, you can click on the Contrast button to preview the original and converted high-res images side by side. Finally, click the Save button to download to your local disk.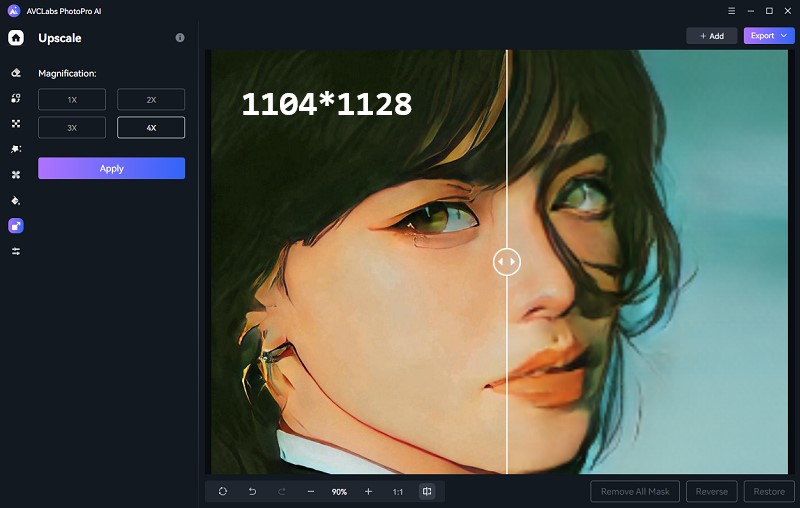 ---
Conclusion:
A high resolution image is better than a low resolution image in every way. It looks better, it can be used for printing, and it can be used for any image editing. If you have an image that is low resolution, you can use any of the tools mentioned above to easily convert it to high resolution. All you have to do is upload the low resolution image and the AI tool will do the rest!
Try AVCLabs PhotoPro AI to breathe new life into your old photos!
---

Video Converter

DVD Converter

Video Editor

Enhance Video Quality

Enhance Image Quality

Remove Objects