AI Video Upscaling | Upscale Videos from SD to HD, 480p to 720p, 1080p
"What is the best video enhancer to upscale videos from SD to HD? How to make old SD videos look better? Thanks." - Adlai Armundsen
Upscaling videos from SD to HD is a pressing need for us to get a better video viewing experience. With the fast development of technology nowadays, SD is not enough. TV and monitors have become advanced with crystal clear visual quality, like 4k, and even 8k. That's why you may want to convert old SD videos to HD videos. With the rising demand for High Definition (HD) and 4K content, there is a need for upscaling the video wherever the source material is not available in the desired resolution.
Thanks to the video upscaling technology, upscaling the low-res video to high resolution, from 480p to 720p, 1080p, or 1080p to 4K without loss of quality becomes possible. Here we would like to share the easiest way to accomplish the SD to HD video upscaling job. Now go on reading for more details.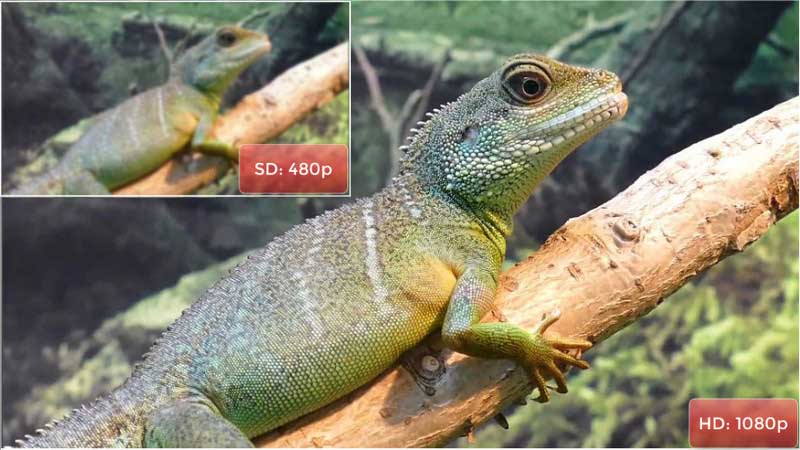 Part 1: Is It Possible to Upscale SD Videos in Low Quality to HD Videos
The answer is definitely yes. Fortunately, there are various AI-based video enhancement tools on the market that can help users improve the video quality while upscaling the video resolution. Before we get started to upscale SD to HD, we can take a look at more details about SD video and HD video first. SD videos are great for those who have a slow internet connection. It has lower bit rates, meaning, it will stream smoothly with less buff (as opposed to higher resolution videos). High definition (HD) videos are of higher quality, far superior in color and resolution to SD video.
Resolution
Stands for
Resolution
Display Proportion
Bitrate
Size
SD
Standard Definition
720p x 480p
4:3
Lower
Smaller
HD
High Definition
1280p x 720p (HD);
1920p x 1080p (Full HD)
16:9
Higher
Larger
Now, let's move to the next part to learn how to upscale old SD (such as VHS) videos to HD video using AI video upscaling software like AVCLabs Video Enhancer AI.
---
Part 2: Upscale Videos from SD to HD with AVCLabs Video Enhancer AI
As one of the most popular AI video upscaling tools, AVCLabs Video Enhancer AI works pretty well in upscaling videos from SD to HD and improving the low-res video quality.
Utilizing deep learning-based Super Resolution technology, AVCLabs Video Enhancer AI gives you the ability to upscale old SD videos and any other low-res videos that are not HD (480p) to HD (720p) or Full HD (1080p). When the resolution is increased, the quality and sharpness of the video can also be greatly improved. Moreover, this AI video upscaling tool can convert SD to HD and HD to 4k or 8k while adding crisp and natural video details.
Through the use of powerful algorithms, high-res output without quality loss is guaranteed. What's more, the SD to HD Video Upscaling software provides users with multiple AI models, all of which are better at processing certain videos than others. With an intuitive interface, it is user-friendly for users to get started. No advanced video editing skills are required.
Video Enhancer AI
Enhance the video quality to make them more aesthetically pleasing.
Deblur your footage by using machine learning.
Upscale videos from SD to HD, HD to 4K.
Upscale low-res videos onto a larger screen.
Trim your footage frame by frame.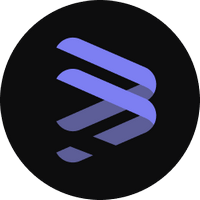 Let's follow the simple steps below to upscale SD to HD.
Step 1
Install and Launch AVCLabs Video Enhancer AI
Warm reminder: Before upscaling videos from SD to HD, you can click here to get more detailed information about the system requirements and check whether your CPU or GPU is capable of upscaling videos with AI.
Firstly, free download the proper version of AVCLabs Video Enhancer AI from the above download button and then install it on your Windows PC or Mac. After installing, run the program and then you will enter the main interface of AVCLabs Video Enhancer AI.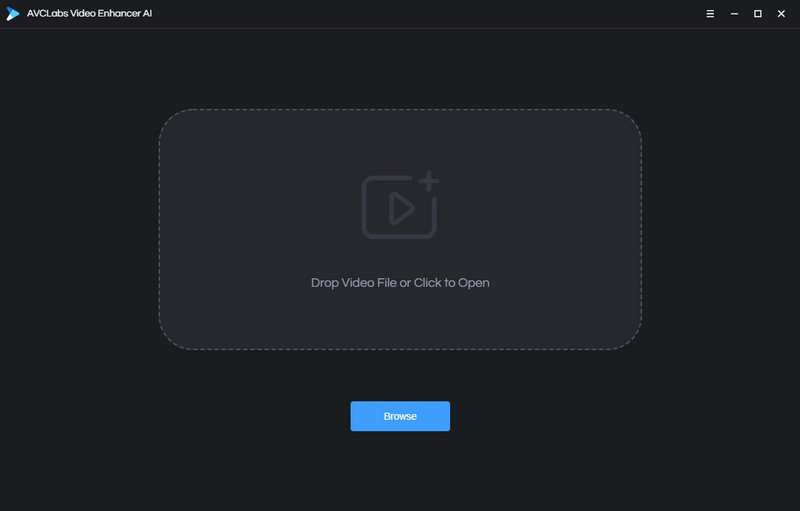 Step 2
Add The Low-res SD Video File You Need Upscale
Directly drag &amp drop the video from your computer to the program or simply click on the "Browse" button to import a 480p resolution video you want to upscale from the computer. You can also click on the Menu button and choose "Open Video File..." to add the video to the program.
Note: AVCLabs Video Enhancer AI supports the most normal video formats like 3G2, 3GP, AVI, DIVX, FLV, F4V, M2TS, MTS, MOV, MP4, M4V, MKV, etc.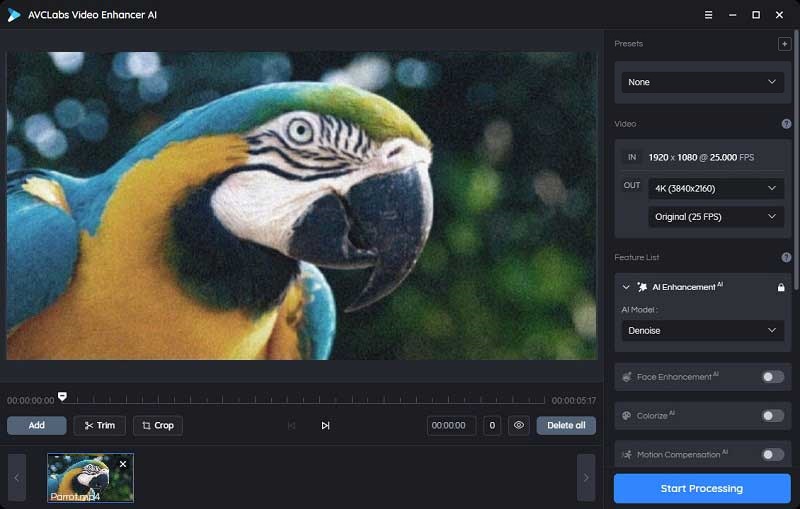 Step 3
Select the AI Model and Set the Output Parameters
Before upscaling an SD video, you need to select the AI model and set the output parameters. You are able to select some critical parameters like the processing model, output resolution, output format, and output path according to your need. To beautify the face details in your video footage, you are allowed to switch on the Face Refinement option. Plus, you also can set the output video format as you prefer. There are two formats for your options: AVI (UnCompressed), MP4 (H.264) format.
Step 4
Start Upscaling the Video from SD to HD
After all the settings are completed, you can click on the Start Processing button to start upscaling the SD videos to HD automatically. The final processing time depends on your PC's system configuration, video size. The higher resolution, the better the video quality. Please wait patiently. During the video upscaling process, you can view the original video and the upscaled one side by side.
Once the video upscaling process is done, you can click on the Open output video button to find and enjoy the upscaled high-res and high-quality video.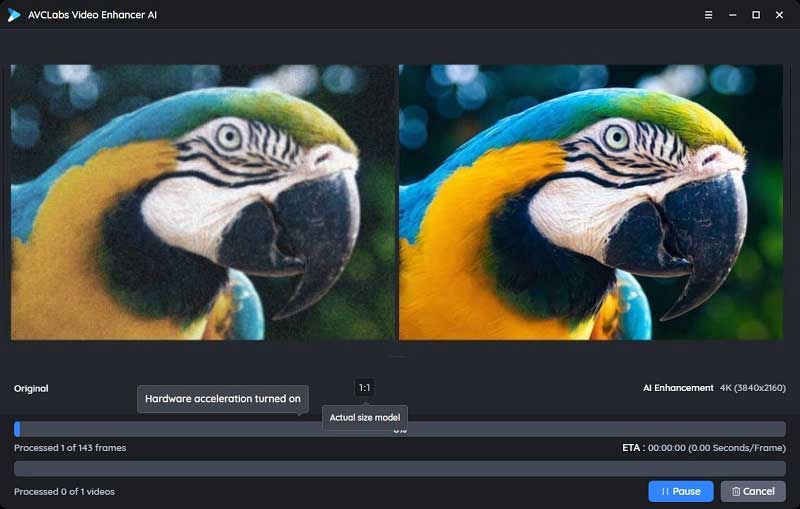 ---
Video Tutorial: AI Upscale Videos from SD to HD
---
Conclusion:
That's all about how to upscale the video from SD to HD and improve the overall quality of the low-res video automatically and intelligently. It is possible to restore the quality of an old SD video with AVCLabs Video Enhancer AI. Just get it for free to explore the amazing functions.
Try AVCLabs Video Enhancer AI to breathe new life into your footage!
---

Video Converter

DVD Converter

Video Editor

Enhance Video Quality

Enhance Image Quality

Remove Objects