Just when technophiles were getting used to the idea of smaller tablets and smartphones with all sorts of bells and whistles, along comes the "phablet".
Phablet, a portmanteau of the words phone and tablet, is an informal term used to describe a specific class of smartphones with screens in between 5 and 7 inches in size, which are primarily designed to combine the functionality of a smartphone with that of a tablet. While a phablet is larger in size than most smartphones, they are smaller in size and thinner than most miniature and full-sized tablets, making them more convenient for users to carry with them. Phablets are typically optimized for mobile web access and multimedia consumption—activities which are enhanced by their relatively larger screens than most smartphones. Some phablets (in particular, Samsung's Galaxy Note series) also ship with a stylus and include software functionality for use with them (such as notetaking and annotation features).
The popularity of phablet devices has grown significantly since the launch of the Galaxy Note: in January 2013, IHS reported that 25.6 million phablet devices were sold in 2012, and estimated that these figures would grow to 60.4 million in 2013, and 146 million by 2016.
Forget the Phone or Tablet: Get Ready for the 'Phablet'
One of the more unique smartphone designs in the market are ones that sport a "5.3" to "6.1" screen and are called Phablets by some in the industry. We call them tweeners as they are a cross between a large smartphone and a small tablet but in a single package.
Samsung's Galaxy Note has set the pace for larger screens on smartphones - and now rivals including ZTE and Huawei are jumping onto what has become a fast-moving market.
ZTE, which collaborated with Italy's designer Stefano Giovannoni for the Nubia phablet, is scheduled to launch its 5-inch Grand S, while Huawei brings out the Ascend Mate, sporting a whopping 6.1-inch screen, making it only slightly smaller than Amazon's Kindle Fire tablet.

Driving the phablet's shift to the mainstream is a confluence of trends. Users prefer larger screens because they are consuming more visual content on mobile devices than before, and using them less for voice calls - the phablet's weak spot. And as tablets with Wi-Fi only become more popular, so has interest among commuters in devices that combine the best of both, while on the move.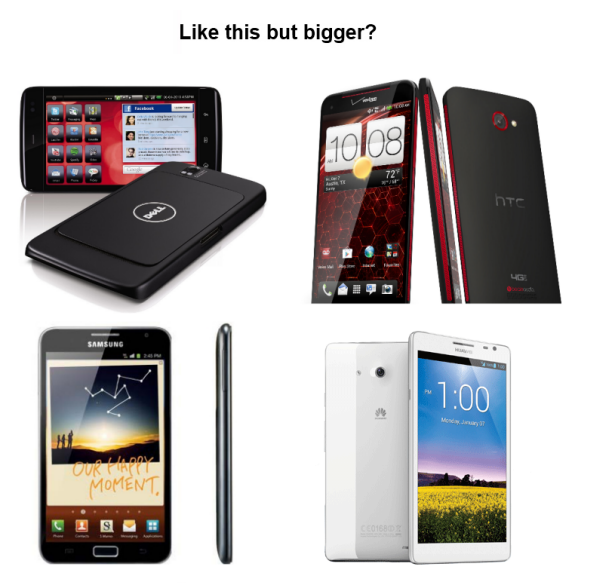 The bigger, the better -- should you buy one?
Yet for now, consumers appear to be responding by shifting their purchases away from desktops, while raising the stakes in the smartphone wars. Based on individuals needs, you may actually want a larger screen on your smartphone because it's easier to read if you have eyesight problems and perhaps just your preference to see things bigger. Are you a big-screen phablet fan and want to buy one for enjoying favorite video or DVD movies on it freely? If yes, which one do you prefer? Is the Samsung Galaxy Note Series or Kindle Fire? Or is the new released Ascend Mate which features the biggest display screen in the world? No matter which one do you choose, it is believed that 2013 will be the year of the phablet as phone screens grow bigger.
Guide on how to convert video or DVD movie for Phablet
Have you ever want to convert video or DVD movies to Phablet for enjoying them on big display screen with better experience? Here the following is a brief guide on how to convert videos or DVD movie for Phablet.
Step1:
Simply click Add Video Files button to import the video files from your hard drive. If you want to convert DVD movies for your Phablet, please insert your DVD movie disc to the DVD drive and then click Add DVD button to locate.
Step 2:
Click "Output Profile>Android Products" and choose "Customized MP4 Movie(*.mp4)" in the profile drop-down list. For better enjoying videos on Phablet, you can customize video and audio options, such as Video Codec, Video Bitrate, Audio Codec, Audio Bitrate, Audio Channel, Disable Audio, etc.
Video Size: 1280 x 720 pixels Video Bitrate: 2500K or 3000K Frame Rate: 29.97fps or 30fps
Audio Sample Rate: 48000 Audio Bitrate: 128K or 160K
Step 3:
Click Convert Now button to start converting videos or DVD movies for Phablet. Once the conversion is finished, you can click "Output Folder" button on the bottom left to get the output MP4 files. Then transfer the converted videos to your Phablet.
Besides converting videos or DVD movies for Phablet, this powerful Phablet Video Converter also features the functions as capturing & recording video from Netflix and similar feed sites, downloading YouTube videos for offline viewing in batch, converting DVD or videos to handheld & mobile devices, transferring video to DVD Burner to create DVDs, editing video clips with cut, crop, and special effects, and etc.